Milwaukee M18™ FORCE LOGIC™ 6T Linear Utility Crimper Kit
The Milwaukee M18™ FORCE LOGIC™ 6T Linear Utility Crimper Kit is the fastest and most versatile way for linemen to crimp. This newest member of the 6T utility crimper family features a slim handle and enlarged trigger specifically designed for use with Class 3 gloves for optimal balance. This crimper features two electronic trigger buttons that can be easily operated by both left and right-handed users without changing hand positions. The in-line design and 340° rotatable head allow easy access to tight spots and the easiest setup for unmatched control and ultimate versatility in any orientation in a variety of applications. Compatible with eight crimp and cutting jaws, this tool can crimp up to 4/0 wire handles, cut up to 750 MCM Cu, 1000MCM Al, 477 ACSR, ½" EHS Guy Wire, 3/8″ Rebar, and 3/8″ Ground Rod becoming a lineman's only crimp and cutting solution – saving truck space. Predictive Force Monitoring (PFM™) constantly measures force output to deliver the fastest crimp speeds while providing accurate pressure and instant verification every time. MILWAUKEE® FORCE LOGIC™ crimpers feature fully enclosed high-speed hydraulic pumps, Brushless Motors, REDLINK™ electronics, and REDLITHIUM™ batteries for ultimate reliability in the toughest conditions. ONE KEY™ technology allows you to store crimp data in real-time, generate professional reports, view historical tool performance, and sync everything wirelessly to the cloud for easy access.
Contact us with any questions you may have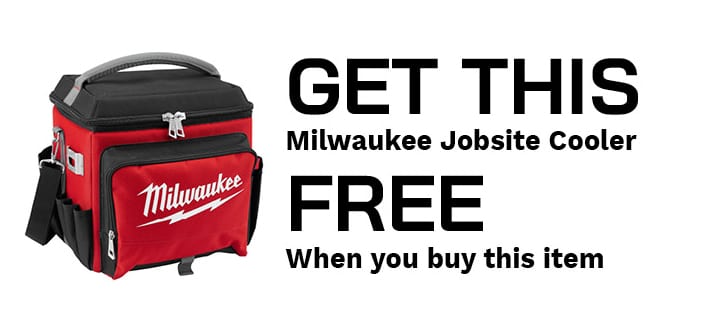 Milwaukee M18™ Cordless 6-Tool Combo Kit
The Milwaukee 2696-26 M18™ Cordless 6-Tool Combo Kit includes the M18™ 1/2″ Hammer Drill / Driver (2602-20), M18™ 1/4″ Hex Impact Driver (2650-20), M18™; Sawzall® Recip Saw (2620-20), M18™ 6 ½" Circular Saw (2630-20), M18™ 4-1/2″ Cut-off / Grinder (2680-20) and M18™ Work Light (49-24-0171). The M18™ Cordless LITHIUM-ION System's patented technologies and electronics, innovative motor design, and superior ergonomics provide the most efficient blend of power, weight, and performance in the industry. Powered by REDLITHIUM™ the M18™ cordless system delivers more torque, more power, and longer run-time than the competition.
Contact Us if you have any questions.